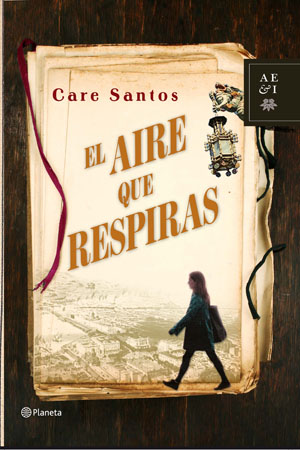 Eligible for translation grant
Destino | 416 Pages | February 2013
Written both in Catalan and Spanish
Full English translation
Books speak to us… but not everyone knows how to listen.
Virginia has just inherited the family business: the Palinuro bookstore. Amid mountains of volumes, dust, and papers her father has accumulated, there appears a pile of letters in which Virginia will discover the story of Carlota Guillot and her obsessive search for a mysterious, whimsical book that belonged to one of the most risqué libraries of the Napoleonic era. A sweeping tale from one of the most convulsive decades of the nineteenth century, when the city underwent its greatest period of transformation, to the astonishment of its citizenry: from the destruction of the outer walls to the urbanization of its most emblematic street, La Rambla.
The Air You Breathe is a love song to books, but also to the city of Barcelona. After reading this magnificent choral history, you will never look at the city the same way.
"I tremble when I hear your voice, and I tremble if you look at me, and I wish I could inhale my last breath burning in the air you breathe."
RIGHTS SOLD TO: Humanitas (Romania).