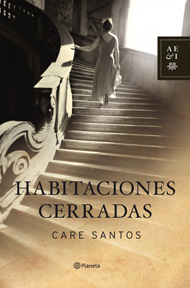 Eligible for translation grant
Destino | 496 Pages | March 2011
Written both in Catalan and Spanish
The Lax family hides a terrible secret.
In the tremulous and fascinating Barcelona of the modernist era, the granddaughter of the famous painter Amadeo Lax has asked for his family home be converted into a museum. And so the matriarch of one of the most prestigious bloodlines in the city prepares to move to her new residence, a gorgeous palace bordering what would soon become the storied Passeig de Grŕcia.
But just as renovation work in the old dwelling begins, a worker discovers a cabinet hidden beneath a fresco, and in it, the dead body of a woman. Who is she?
Violeta, the last of the line, struggles to unravel the secrets of her illustrious ancestors. She plunges into the shadowy past of one of the most eminent families in Barcelona, which has been witness to numerous political, economic, and cultural revolutions from the end of the nineteenth century to the middle of the twentieth.
A family saga, a crime novel, a historical fresco, an ambitious tale that transports us to en era when Barcelona, on the eve of disaster, was still a jewel of industry in a Spain that had embraced modernity.
"A great story of passion, secrets and emotions, but mainly of women."
Clara Sánchez
"This beautiful novel is a declaration of love to a city, Barcelona,
a tribute to its story, its people and its atmosphere."
Ildefonso Falcones
RIGHTS SOLD TO: Planeta Manuscrito (Portugal), Salani (Italy), Humanitas (Romania), Wereldbibliotheek (The Netherlands), Albert Bonniers Förlag (Sweden), Cappelen Damm (Norway), Fischer (Germany), Grasset (France), Record (Brasil), Sonia Draga (Poland), Psichogios (Greece), Alma Littera (Lituania). Also turned into a TV mini series.